April 30, 2017—
the NATCH! is declared BEST BAND IN VERMONT 2017 by the New England Music Awards.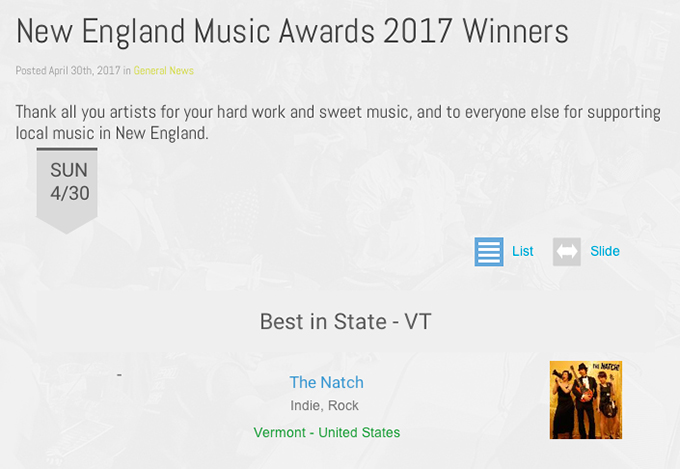 March, 2011—
the NATCH! Gets Lots of Love from Big Takeover Reviewer Marc Scarano
February, 2011—
the NATCH! Inteview on Know Dice Music (thanks Adam!)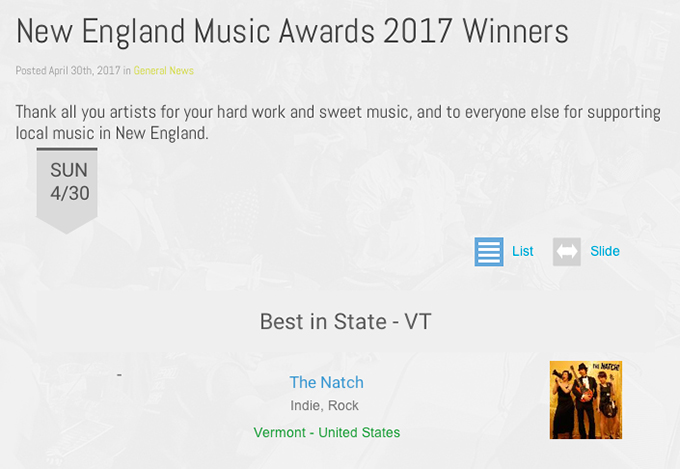 December, 2010—
the NATCH! Inteview on MurphGuide.com
November 26, 2010—
the NATCH! is mentioned on Girls Rock Girls Rule.com
October, 2010—
the NATCH! is mentioned in Tom Tom Magazine
September, 2010—
The Deli Magazine ranks the NATCH! in top 300 nyc artists (IndieRock)
September, 2010—Rock Star Moms Newsletter features Trish
April 15, 2010—OffBeatMama.com
Ariel Meadow interviews NATCH! drummer Trish Naudon
April 2010—Rock Star Moms Endorse Trish Naudon
RockStarMoms April Newsletter featured Trish (aka TNT) as their RockStarMom!
February 17, 2010—The Deli Magazine's NY Blog
Kind words on the Deli Magazine's NYC blog page. Thanks Paolo and co!
December 31, 2009—Huffington Post
the NATCH! in the Huffington Post best of Jersey City 2009—Woot Woot! the NATCH! got a mention in the Huffington Post of all places. As part of their "Year in Review 2009 In Lists", we were included in the list of Top 5 Bands in Jersey City.
Monday, August 31, 2009—Zak Clark, Rocker Tycoon
Thanks to Zac Clark of Rocker Tycoon who wrote up the following nice review of our show at Automata Chino in Jersey City! Hey Zac, big thanks! We look forward to the next late night hang out.
The Natch and Victor Bravo at the Iron Monkey
...As I was saying, Friday Night I took a trip out to IM Automata Chino in Jersey City. To see a few bands I hadn't heard of: The Natch and Victor Bravo....As I walked down to the makeshift venue I ran into Trish Naudon(formerly of America's Sweetheart) Overjoyed I asked if I had misread the bill and they were playing. She confirmed the latter over the former and told me that they were now The Natch. The band's old singer/guitarist left and they became the Natch. So I geared up for a reunion with some old friends! The moral here? Support your local band... when that band becomes another band... support that band as well! Slightly more congealed now the Natch is everything I dug about AS. Chris Thomas (guitar) and Paris Mancini (bass) trade off vocals and Trish (drums) fills in with a little backing! Sick Guitar, catchy lyrics and poppy drum, it's just fun rock and roll. Like a good old fashioned (the drink), simple and straight-forward, but with a little flair to make things interesting!